My last exams were two weeks ago (actually we have only two 6 hour exams with one day in between, so they go by pretty fast), so now I'm officially on holiday. Twio weeks of doing nothing but looking at the weather, the tv, take some pictures and do nothing. Sounds marvellous, doesn't it? But it's BORING. I'm not used to not working in the summertime. Being a student I normally work full time all summer. But this year I have earned enough through the whole year, so if I don't overspend I don't have to work. I thought it was a marvellous idea. Until it started.
(
Rambling a la Lorentine
Collapse
)
So this is not all so boring, here is a picture of my sweet Noa in her new wig from Tinybear. There are lots more on Flickr.
Current Location:

Library

Current Mood:

bored
but
studying hard. It actually makes me happy to read about other people doing the same things, actually
plastic_army
's "I'm supposed to be writing an essay, but I'd rather take pictures of my dolls"-post inspired me to take pictures of Noa, my BJD.
Yesterday I made her three pair of socks (one pair was too small and was donated to
katandpullip
's Hermine), I also made her two dresses, one white and one in brown retro print. She doesn't have a decent pair of eyes yet, and no wig. But I used an 8-9 Monique wig, which kinda worked. I can't wait to take some "real" photos of her. But in the mean time these will do.
(
Two more :)
Collapse
)
I will upload more pictures to my new flickr account soon, just want to crop and add a little first. I decided to get a new flickr account for my dolls last week, I have one but it is filled with MLPs. I just find it more and more tidious to post my pictures in forums (lazy me), and I am getting more and more lurky in my ususal hangouts. At the moment I find myself preferring the more "private" arenas, like LJ and flickr, than big forums like PS. But that may be subject to change later again.
If you have flickr and I haven't added you already, I'd love to have all my friends as contacts. I'm here
www.flickr.com/lorentine
My first exam is on friday next week, and I'm not at the knowledge level I would like to be. But in my ususal tradition I'm doing anything and everything
Current Location:

My bed

Current Mood:

anxious
My Dollga Noella head came awhile ago, no pictures as its eye-, wig- and bodyless. I am going to look for matching bodies for the head. I'm not a big fan of Dollga's megrise body, it looks a bit lumpy to me. Sometimes I regret the decision of only getting the head, of course it was waaay cheaper at the moment, but it also means that my floating head may take a while before she becomes a "real doll". I am thinking of naming her Lucie, but we'll see when she is completed.
(
More of this and that
Collapse
)
Current Mood:

bouncy
I guess it has just been waiting to happen... all of my online friends have been taunting me and luring me into the wonderful world of BJD with their beautiful pictures. I went totally crazy for my first girl, and bought a HUGE one, Dollga Noella. She is an SD girl, and everytime I think of her arrival I feel both awe and fright.
Well, we'll see.
(
Present for my Pullips
Collapse
)
Current Mood:

bouncy
moeeeh
, a fellow Pulliplover and my co-admin at
www.shopadollic.com
. She brought all her dolls, so I got to see my first RL taeyang and T1 body, plus beauties like Greggia and Oren.
I guess I'm not a BJD person yet, since those were the highlights of my day. Although it was fun to see the bjd owners string their dolls, I also got a glimpse of sueding and painting faceups. That was really cool, there is a lot of advanced work on those dolls, at least compared to pullips.
So, I'm definitely ready for a new meetup!
So this is not just a super-boring post... My favourite picture of my dal, Sissik and my sister's Lotte.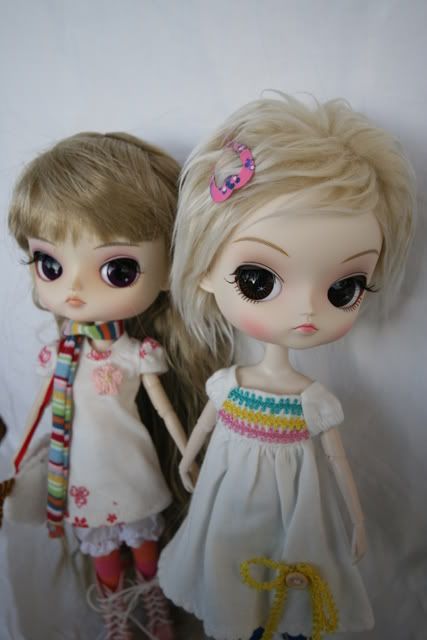 PS: Just saw a picture of the first ever Blythe I actually liked! She is a custom, go see her here
community.livejournal.com/blythedoll/1805553.html
I am! On saturday I was at my first ever doll meet. I felt pretty brave, although I'm not the shyest person ever it was a lot of strangers at once. I only ever shared this hobby with my sister, so it was a bit overwhelming to meet a lot of people with the same interest. Most people there were BJD collectors though, so I felt like the black sheep of the family. Luckily, I got to meet


Here is the results of my craze:
- 2 Megipupu dresses (so cute!)
- Splitting Rot Chan and Tezca (stock for me)
- Bought a couple of UGG boots on eBay (gah, they are expensive!)
- Bought a hat from IamLily
- Bought Kanaria's stock
- Bought buttons and trims for the dresses I'm (hopefully) going to make
- Bought a Monique GOLD wig for my newest girl

Oh, well. The girls will be extatic, and making them happy is priority numero 1.
Or so it seems :P
I got my salary today, after being broke for a couple of weeks. Of course, being broke meant that I haven't been buying anything for a while. So... naturally I went a little crazy. And now I feel bad about it. I definitely have better things to spend my money on than dolly stuff.
Current Mood:

embarrassed

Here is the photoshoot with Mia that I promised. For the moment I am considering Selma and Lucie as her new name, but I like Una a lot too. We'll see.

I'm not doing any typical Valentine day thing. I am celebrating a friend's birthday, an all girls party actually. My poor boyfriend is going to stay at home, reading for his exams on tuesday.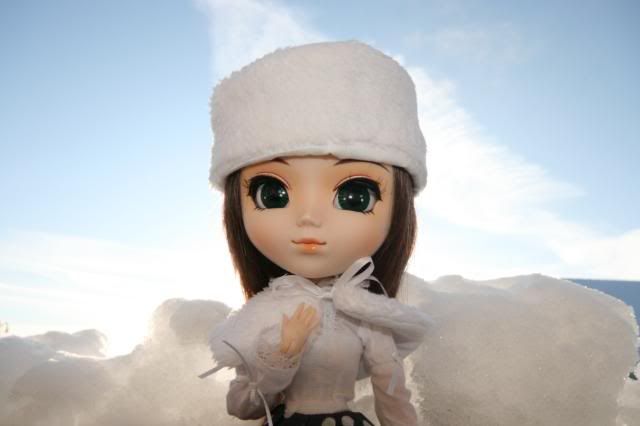 (
Loving the snow
Collapse
)
Current Mood:

cheerful
I have been overly jealous of everyone posting pics of their snowy backyards lately, but I went to visit my parents yesterday (still here actually), and guess what? SNOWY backyard! Yeahy! I couldn't resist taking Mia out for a photoshoot. I hade to wade in snow to my knees, I almost got frostbite, definitely got wet and cold, but I did it. The pictures will be posted later, I think they turned out pretty good.
(
Pictures of the snowy backyard and the NEW GIRL!
Collapse
)
Lately I have been thinking of renaming Mia. There are so many called Mia, both dolls and people. And I'm not sure I like it anymore. I have been thinking about names like Selma, Una, Albertine or Agathe. More old fashioned names. What do you guys think? Do you have any suggestions? It feels a bit weird renaming a doll that has been with me for so long, but if it feels wrong it feels wrong. Right?
Here is a sneak peak from her photoshoot today.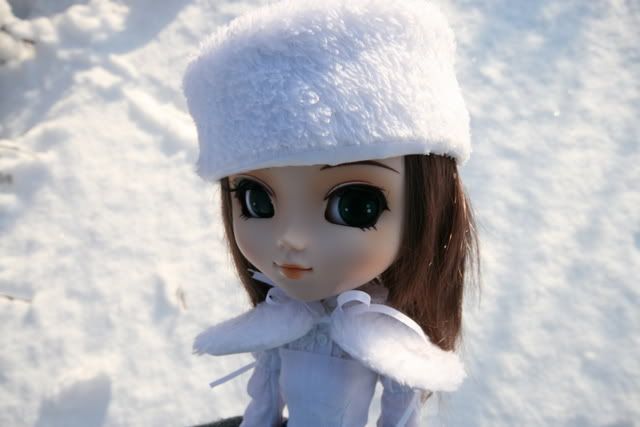 I finally bought a Zuora! She was highest on my wantlist when I first got into Pullips, but then I decided to let her go and not get her. But here she is! She has a sweet face, but seems pretty tough on the inside. I'm still a bit on the fence if she is a keeper or not, I guess I'll have to wait until her wig gets here.
Current Location:

Livingroom

Current Mood:

cold

Current Music:

Silence
(
Ramblings on 2007
Collapse
)
In 2008 I think I've gone a little crazy. Firstly, I discovered the fun of buying lots and lots of stuff for my girls. Which easily costs as much as many dolls. And then i went on a total buying spree when it comes to dolls.
(
The crazy buying spree in pictures
Collapse
)
After this year of complulsive buying, I have realized that I'm just not a pullip collector when it comes to number of dolls. The second I get a lot of dolls, I freak out and wants to sell them. And when I look at the dolls, the newer ones always loose to my original two, Matilda and Mia. So, maybe that's what's meant to be.
(
Future ramblings
Collapse
)
That's it. if you cared enough to read the whole thing, wow! And thank you! I would really like to read all of your plans for the year as well *hint, hint*
I always feel the need to look backwards when a new year begins. 2009 is no exception. In March I will be in my second year of Pullip madness. Time has really been running, I feel like a newbie still :)
Current Mood:

accomplished